Sarah and I got back a week ago from a week in New Orleans, and I've finally got a little time to start writing about it. Arlington Street Church, where Sarah is very active, has a partner church in NOLA - First Unitarian Universalist Church of New Orleans, in the Broadmoor neighborhood. She's a member of the PC3 (Partner Church Coordinating Committee), which organizes regular trips to help rebuild. This was Sarah's fourth of the five trips taken so far, and my first.
This trip was, not entirely coincidentally, the week spanning the two weekends of the New Orleans Jazz & Heritage Festival (JazzFest to all who know and love it). Sarah's first JazzFest, my second (I went in 2006 - the first one after Katrina).
We stayed at the Annunciation Mission, close to First Church on Claiborne. They provide food and lodging for volunteer groups - a clean, safe place to stay, with three square meals a day, for only $20/night.
We arrived Saturday, and wandered around a bit. My friend Jim Duffy has a bit of an obsession with old serial murder cases, and had been telling me about the Axeman of New Orleans, who terrorized the city in 1918-19. We took a ride past one of the sites mentioned in the Wikipedia article, Upperline and Magnolia - the article wasn't specific about which corner the victims lived on, but we snapped a photo of the oldest building at the intersection: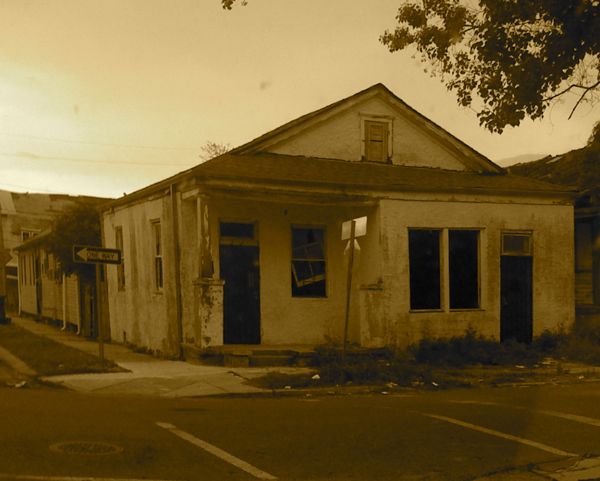 Pardon my indulging in sepia...
Oh, and we caught lunch at Ted's Frostop, known (these days, anyway) for the giant upside-down root beer out front (toppled by Katrina).
It ended up raining hard that Saturday, so we visited the New Orleans Museum of Art. Highlights were the George Rodrigue exhibit (all the Blue Dogs you would ever hope to see), and works by Judy Cooper.
More to come...